Recreation
De westhoek can only be compared as the jewel on the crown of Flanders. You will get lost in the fields of hop, have another great Belgian beer of will be touched by its World War one history. De westhoek is ageless, casual and gives you a lot of energy.
Cycling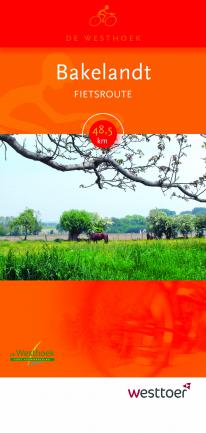 Bakelandt- cycling path
- 46 km
Bakelandt was a famous outlaw who lives in the 18th century in the area of Langemark. His hindingplace were the Woods of Houthulst. During the ride, you will see a lot of variety on landscapes , mills and other places of interest.
Peace cycling path
- 45 km
This path brings you to all the important sites of the Ypres Salient. A lot of Military Cemeteries and relicts will pass on your route.
Poison gas Cycling Route
- 41 km
A 41 k cycling route through historic and picturesque landscapes, along which eight illustrated testimonial columns immerse you in one of the darkest periods in the history of mankind: the use of gas as a weapon in war.
Folk Tales Route
- 37 km
Unique in Flanders : an easy cycling tour through a beautiful area with 16 decorated audio pillars where you can stop and listen to interesting old stories. In Dutch or in the local dialect, but also in English and French.
Greenhouse 37 Route
- 37,9 km
Verken de wijde omgeving van Langemark via de knooppunten vab dit voor jou uitgestippelde lusje. Je rijd langs mooie plekken en bezienswaardigheden.
Fietsroutes in de b&b verkrijgbaar tegen betaling.
Hiking paths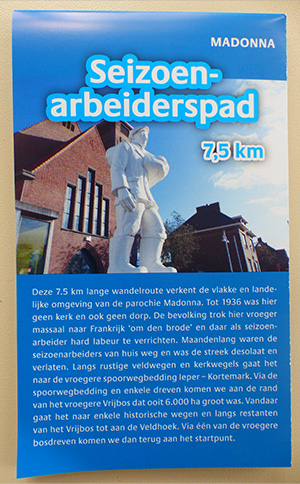 The hiking path of the beet-cultivators
- 7,5 km
The small village of Madonna was known for its workers abroad. They all worked in France to cultivate beets. It was a though job to do, but the civilians of Madonna were known for their persistence .Discover this beautiful hiking path.
Malinowski- path
- 6,3 km
The Polish pilot Malinowski had to make a forced landing with his airplane during WWII in the fields of Madonna. Discover his unbelievable escape to Great-Britain.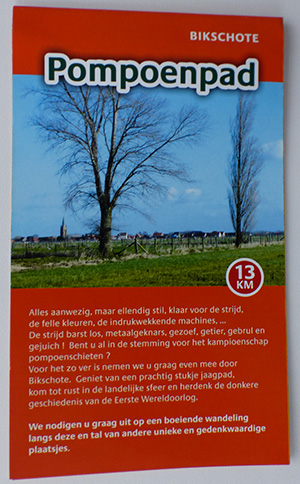 Pumpkin Path
- 13 km
Years ago, a European competition with shooting pumpkins in the air, was organised here in Bikschote. Discover this fascinating Path of 13 km
Rooie Zita path
- 11,7 km
Rooie Zita was the girlfriend of Bakelandt, the outlaw who lives in the woods of Langemark. This path gives you an impressive view on the Ypres Salient.
Bakelandt path
- 10,5 km
Outlaw Bakelandt lived in the woods of Langemark. His story has been idealized by a local writer. The outlaw was catched in 1802 an hanged on the market of Bruges
Path of Saint-Antonius
- 11,5 km
Saint -Antonius is worshipped for healing skin diseases. During the 19th century, a lot of pilgrimages where organized to the village of Sint-Juliaan?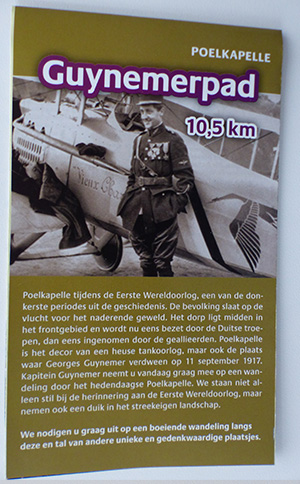 Guynemerpad
- 10,5 km
On the 11th of September 1917, the French pilot Guynemer disappeared above Poelkapelle. In the center of Poelkapelle, a huge monument is erected to commemorate this hero.
VerhalenVoorOnderweg
- 6,2 km
Touristic car routes wwi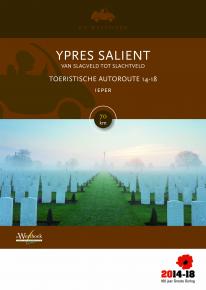 Ypres Salient
- 70 km
The Ypres Salient was a bulge in the front line. This was an area of repeated savage fighting, since it was one of the most dangerous sectors of the front.. The route takes you to all the most important sites and monuments on the old battlefields, as well as telling the stories of John Mc Crae, George Guynemer, Tyne Cot Cemetery, Hill 60, German military Cemetery.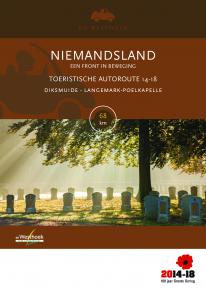 No Man's Land
- 68 km
This route follows the changing front line between the Allied and German sectors. On 22 April 1915 chlorine gas was used for the first time. Langemark was the scene of the slaughter.During the Final Offensive Belgian troops stormed the fortress of Houthulst Forest. Diksmuide was a dangerous sector throughout the war, and later became a place of pilgrimage for Flemish veterans. The 68 k 'No-man's-land' route, signposted with six-sided boards, will take you to all the most important sites.
Autoroutes in de b&b verkrijgbaar tegen betaling.
Brochure Langemark-Poelkapelle
Deze brochure helpt u een bezoek aan Langemark-Poelkapelle te plannen of kan u ter plaatse de troeven doen ontdekken.
Download hier de brochure
.